Thanks to all those who purchased bulls in our 6th Annual Afforda-BULL sale. The new sale facilities at MM/Glore Cattle Company were great!  If you didn't make it this year go ahead and put it on your calendar for 2019. It will be November 23, the Saturday before Thanksgiving as always.


If you are still in need of a good SimAngus bull we have a nice group of long yearlings we held back from the sale. But don't wait too long. The demand has been good and we have sold a half dozen since the sale already. We do have eight bulls in the sale pasture and the quality runs deep so you won't be disappointed.  They are listed below with their ASA registration numbers so you can look them up and see what I'm talking about. As of right now we don't have many pictures or videos to show you so you'll just have to take our word on what they look like or better yet come see for yourself.


We also consigned a group of bulls to the Calhoun Bull Test this past year. We are happy to report that one of our East Coast sons was the high indexing SimAngus out of 38 SimAngus!  He was also the high selling SimAngus in the sale. We would like to thank Millard Daniel of Jackson for his purchase of our top bull.
_________________________________________________________________________________________________________________________________________

East Coast
"East Coast" our Senior herd sire is a Wide Range x Sharper Image son.
His first sons sold in our sale last fall with widespread acceptance. We don't have anymore breeding age sons of him now but we have some nice ones born last September and October that will be in the sale this fall. Mark your calendars for November 23, 2019. An interesting side note about his calves—for a bull that has a very small white blaze in his forehead he consistently stamps them with more of a blaze face than he has! Click below for a video of East Coast.

Here is East Coast pictured on the day he was born.
Destined to be a herd sire. Out of a great cow family.
He gets his name from the white blaze on his face.
_________________________________________________________________________________________________________________________________________


Long Yearling SimAngus bulls for sale:

721E. 9-8-17 - SOLD
GW Premium Beef x Upgrade
ASA 3404889

| | CE | Brth | Wean | Year | ADG | MCE | Milk | MWW | Stay | Doc | CW | YG | Marb | BF | REA | Shr | API | TI |
| --- | --- | --- | --- | --- | --- | --- | --- | --- | --- | --- | --- | --- | --- | --- | --- | --- | --- | --- |
| EPD | 13.5 | -0.8 | 72.1 | 115.5 | 0.27 | 6.9 | 20.6 | 56.6 | 15.7 | 14.8 | 29.7 | -0.26 | 0.36 | -0.046 | 0.71 | -0.40 | 138.8 | 78.0 |
| ACC | 0.22 | 0.35 | 0.30 | 0.32 | 0.32 | 0.21 | 0.22 | 0.25 | 0.18 | 0.20 | 0.33 | 0.26 | 0.28 | 0.26 | 0.31 | 0.06 | | |
731E. 9-15-17 - SOLD
GW Premium Beef x Dual Focus
ASA 3404905

| | CE | Brth | Wean | Year | ADG | MCE | Milk | MWW | Stay | Doc | CW | YG | Marb | BF | REA | Shr | API | TI |
| --- | --- | --- | --- | --- | --- | --- | --- | --- | --- | --- | --- | --- | --- | --- | --- | --- | --- | --- |
| EPD | 10.7 | 0.9 | 66.9 | 105.9 | 0.24 | 5.0 | 22.4 | 55.8 | 18.7 | 14.9 | 23.7 | -0.18 | 0.44 | -0.028 | 0.54 | -0.39 | 139.3 | 73.9 |
| ACC | 0.22 | 0.35 | 0.30 | 0.32 | 0.32 | 0.21 | 0.22 | 0.26 | 0.19 | 0.21 | 0.32 | 0.26 | 0.27 | 0.26 | 0.31 | 0.06 | | |
736E. 9-16-17 - SOLD
GW Premium Beef x Picasso
ASA 3404913

| | CE | Brth | Wean | Year | ADG | MCE | Milk | MWW | Stay | Doc | CW | YG | Marb | BF | REA | Shr | API | TI |
| --- | --- | --- | --- | --- | --- | --- | --- | --- | --- | --- | --- | --- | --- | --- | --- | --- | --- | --- |
| EPD | 10.3 | 0.0 | 51.3 | 78.2 | 0.17 | 5.8 | 26.0 | 51.6 | 18.7 | 13.8 | 13.9 | -0.22 | 0.42 | -0.039 | 0.44 | -0.34 | 132.7 | 65.4 |
| ACC | 0.22 | 0.37 | 0.31 | 0.33 | 0.33 | 0.21 | 0.24 | 0.28 | 0.19 | 0.20 | 0.33 | 0.26 | 0.27 | 0.26 | 0.31 | 0.06 | | |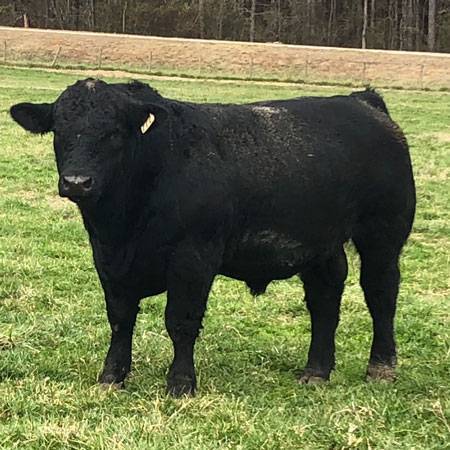 772E. 9-28-17 (Pictured Above)
Upgrade x Mo Magic
ASA 3404971
A real top shelf Performance bull with looks and phenotype to boot. This one is something special

| | CE | Brth | Wean | Year | ADG | MCE | Milk | MWW | Stay | Doc | CW | YG | Marb | BF | REA | Shr | API | TI |
| --- | --- | --- | --- | --- | --- | --- | --- | --- | --- | --- | --- | --- | --- | --- | --- | --- | --- | --- |
| EPD | 7.5 | 3.9 | 79.8 | 119.8 | 0.25 | 3.9 | 23.9 | 63.8 | 16.1 | 12.1 | 26.3 | -0.46 | 0.11 | -0.099 | 0.86 | -0.23 | 112.2 | 70.5 |
| ACC | 0.23 | 0.36 | 0.31 | 0.33 | 0.33 | 0.22 | 0.24 | 0.27 | 0.19 | 0.20 | 0.34 | 0.27 | 0.29 | 0.27 | 0.32 | 0.04 | | |
778. 10-1-17 - SOLD
3C Macho x Picasso
ASA 3404980

| | CE | Brth | Wean | Year | ADG | MCE | Milk | MWW | Stay | Doc | CW | YG | Marb | BF | REA | Shr | API | TI |
| --- | --- | --- | --- | --- | --- | --- | --- | --- | --- | --- | --- | --- | --- | --- | --- | --- | --- | --- |
| EPD | 8.7 | 2.3 | 59.7 | 85.2 | 0.16 | 8.3 | 20.4 | 50.2 | 18.2 | 7.4 | 20.8 | -0.18 | 0.45 | -0.057 | 0.26 | -0.06 | 129.3 | 67.1 |
| ACC | 0.22 | 0.37 | 0.31 | 0.34 | 0.34 | 0.21 | 0.24 | 0.28 | 0.19 | 0.17 | 0.33 | 0.26 | 0.27 | 0.24 | 0.32 | 0.09 | | |
788E. 10-14-17 - SOLD
Upgrade x Predestined
ASA 3404996

| | CE | Brth | Wean | Year | ADG | MCE | Milk | MWW | Stay | Doc | CW | YG | Marb | BF | REA | Shr | API | TI |
| --- | --- | --- | --- | --- | --- | --- | --- | --- | --- | --- | --- | --- | --- | --- | --- | --- | --- | --- |
| EPD | 11.2 | 0.7 | 63.6 | 99.1 | 0.22 | 7.1 | 24.8 | 56.5 | 12.5 | 10.6 | 18.3 | -0.14 | 0.47 | -0.022 | 0.40 | -0.24 | 121.0 | 70.8 |
| ACC | 0.20 | 0.33 | 0.30 | 0.32 | 0.32 | 0.17 | 0.18 | 0.19 | 0.09 | 0.10 | 0.32 | 0.24 | 0.26 | 0.23 | 0.29 | 0.02 | | |

790E. 10-15-17
Upgrade x Slugger
ASA 3404999

| | CE | Brth | Wean | Year | ADG | MCE | Milk | MWW | Stay | Doc | CW | YG | Marb | BF | REA | Shr | API | TI |
| --- | --- | --- | --- | --- | --- | --- | --- | --- | --- | --- | --- | --- | --- | --- | --- | --- | --- | --- |
| EPD | 11.8 | 0.8 | 78.5 | 122.4 | 0.27 | 7.3 | 23.2 | 62.4 | 16.8 | 10.7 | 26.9 | -0.30 | 0.22 | -0.073 | 0.61 | -0.30 | 130.5 | 76.5 |
| ACC | 0.17 | 0.33 | 0.28 | 0.30 | 0.30 | 0.15 | 0.16 | 0.19 | 0.12 | 0.09 | 0.28 | 0.22 | 0.22 | 0.20 | 0.26 | 0.01 | | |

795E. 10-22-17
Final Chance x Ms Daisy
ASA 3405007

| | CE | Brth | Wean | Year | ADG | MCE | Milk | MWW | Stay | Doc | CW | YG | Marb | BF | REA | Shr | API | TI |
| --- | --- | --- | --- | --- | --- | --- | --- | --- | --- | --- | --- | --- | --- | --- | --- | --- | --- | --- |
| EPD | 10.7 | 3.0 | 75.3 | 119.3 | 0.28 | 7.7 | 17.5 | 55.0 | 20.5 | 12.4 | 25.0 | -0.20 | 0.45 | -0.037 | 0.54 | -0.34 | 143.3 | 76.3 |
| ACC | 0.20 | 0.36 | 0.29 | 0.31 | 0.31 | 0.17 | 0.18 | 0.21 | 0.09 | 0.00 | 0.30 | 0.23 | 0.24 | 0.22 | 0.29 | 0.01 | | |
| | 65 | 95 | 15 | 10 | 10 | 30 | 90 | 50 | 4 | 35 | 70 | 65 | 25 | 65 | 70 | 45 | 15 | 20 |
798E. 10-28-17 - SOLD
I-85 (Maine) x Gibbs Legend
ASA 3405011

| | CE | Brth | Wean | Year | ADG | MCE | Milk | MWW | Stay | Doc | CW | YG | Marb | BF | REA | Shr | API | TI |
| --- | --- | --- | --- | --- | --- | --- | --- | --- | --- | --- | --- | --- | --- | --- | --- | --- | --- | --- |
| EPD | 10.3 | 2.2 | 53.2 | 73.3 | 0.13 | 5.1 | 18.3 | 44.8 | 7.0 | 8.7 | 6.8 | -0.25 | 0.17 | -0.057 | 0.30 | | 84.0 | 54.1 |
| ACC | 0.10 | 0.30 | 0.21 | 0.23 | 0.23 | 0.08 | 0.10 | 0.14 | 0.05 | 0.07 | 0.21 | 0.16 | 0.17 | 0.15 | 0.20 | | | |
_________________________________________________________________________________________________________________________________________
Sale Archives:


2018 Bull Sale Catalog
2017 Bull Sale Catalog
2016 Bull Sale Catalog
2015 Bull Sale Catalog